NSDJ69A Phil Auerbach of Auerbach International, Inc. and The AIGF Foundation
In this podcast Dr. Jay has a free-ranging discussion of various topics with Earlham alumnus, friend and professional colleague Philip Auerbach. From TM, Stress reduction, brain function, translation and serving non-profits around the world, Dr. Jay and Phil have fun over a Thai meal talking about matters of import for humanity.
About Philip Auerbach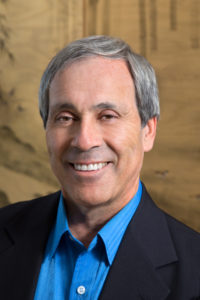 A practitioner of Transcendental Meditation for 47 years, Philip Auerbach has studied eight languages, speaks French and Japanese well, and has visited over 55 countries. With a BA from Earlham College and an Master's from the Thunderbird School of Global Management, he has run Auerbach International (www.auerbach-intl.com) for almost 30 years. Expanding clients into countries and cultures, the firm identifies countries to enter; strategies to enter them; and professional translations of any kind of business, technical or government content into 80 world languages. In August 2018, he launched the Auerbach Global-Impact Foundation (AGIF), a nonprofit that advances the missions of all other nonprofits and helps expand their opportunities and possibilities. Since half of all nonprofits fail within their first three-five years, the AGIF (www.theAGIF.org) provides comprehensive programs to empower them instead to succeed and thrive.
In his early career, Philip Auerbach was an Associate Editor and then Director of Product Management at Auerbach Publishers, a former family-owned firm in New Jersey; Marketing Director at Bophuthatswana Management Services in southern Africa; New Business Development Manager at Springhouse Corporation in Pennsylvania; and Director of Medical / Healthcare Research at Market Intelligence Research Company (now Frost & Sullivan) in California. He has been President and Marketing Director of Auerbach International since 1990.
In these and other capacities, Mr. Auerbach has marketed products ranging from videos to software; edited, designed and marketed publications, databases as well as varied non-profit and for-profit services; and has taught many courses to American and international business executives, both in the US and abroad.
Among his major business accomplishments, Mr. Auerbach managed the turnaround of an unprofitable publishing operation to generate over $1 million in new revenue in just one year; conducted market research, designed and implemented business plans, and formulated financial strategies to generate $5 million in sales in untapped business niches; negotiated licensing agreements both in Japan and the US; organized and directed over 25 US and global product launches and presentations in the US, Europe, Africa and Japan; and has written over 200 promotional brochures and articles for US and overseas markets, localizing these and other programs for both developed and developing countries.
Mr. Auerbach speaks French and Japanese as well as some Spanish, German, Italian and Chinese, with prior study of Hebrew and Latin. Over his extensive career, he has worked and traveled in over 55 countries throughout Western Europe, the former USSR, the Pacific Rim, South Asia, Africa, the Middle East and the Americas, absorbing diverse cultural values and societal structures.
Mr. Auerbach earned an International MBA degree with a specialization in Marketing from The Thunderbird School of Global Management in 1981 and earned his Bachelor's degree in Japanese Studies at Earlham College, Indiana, in 1975. He also studied at Institut Catholique in Paris, Waseda University in Tokyo, and East China Normal University in Shanghai. He was also an Adjunct Professor teaching Translations Project Management at the Monterey Institute for International Studies.
In early 2018, he launched the Auerbach Global-Impact Foundation, and since 2013 has been a frequent participant at CEO Space, the nation's foremost business conference.
During "off hours," he has been a volunteer high school tutor, committee and Board member of a no-interest loan society, and leader for over ten years of a Christian-Jewish-Muslim Dialog Group. Favorite activities include reading; movies; countryside hikes; horse riding; bike riding; attending plays, operas and concerts; and enjoying dinners with one or two friends at a time.
#StressReduction #Meditatioin #BrainCare #Translation
Contacting Philip Auerbach
Philip Auerbach, President of Auerbach International Inc., with Translations-Express!®  Culturally correct accuracy with miraculous service, World-Quest Marketing® Countries. Strategies. Cultural Cues, and The Auerbach Global-Impact FoundationTM  Advancing and Enhancing Non-Profits' Missions Worldwide   
www.auerbach-intl.com      www.theAGIF.org
To upload translation files to our secure server, please click 
HERE.
Tel 415 592 0042 x 107
Fax 415 592 0043
`
NSDJ69a and NSDJ69b Phil Auerbach of Auerbach International and AIGF Foundation
#SUPERBRAIN #PHILIPAUERBACH #DRJAYSORDEAN
Phil Auerbach, Auerbach International, Dr. Jay Sordean, Super Brain – The Book, Earlham College, Transcendental Meditation,AIGF Foundation, Code Blue in the White House
Podcast: Play in new window | Download